The surf in St. Augustine for
Thursday August 28 , 2014


Wave Height 2 - 2½ft
Wind Direction E
Wind Speed 8 - 9 kts
Water Temp 80°
High Tide 1 10:31 AM
High Tide 2 10:45 PM
Low Tide 1 4:10 AM
Low Tide 2 4:26 PM
Time Of Report 9:24 PM
Comments Bumpy but still fun as the tide turned and started to push this evening. Should be much smaller tomorrow and back to small maybe just ridable waves for the holiday weekend.


Don't forget, St. Augustine's oldest surf report is now online. Blue Sky Surf Shop's surf report, with cams and quicktime clips of the waves.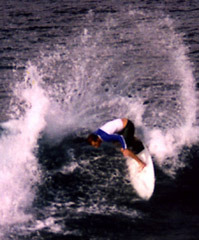 Myles McGuinness PR 98
By Debra
(Click image to enlarge)