The surf in St. Augustine for
Saturday January 14 , 2017


Wave Height 2 - 3ft
Wind Direction N
Wind Speed 9 kts
Water Temp 64.4°
High Tide 1 9:18 AM
High Tide 2 9:46 PM
Low Tide 1 2:52 AM
Low Tide 2 3:35 PM
Time Of Report 8:31 AM
Comments Clean long lines throughout the morning this morning. A little mushy at the higher tide. The swell is still holding at the buoy but is forecast to start dropping later today. Should be plenty of surf into Monday.


Don't forget, St. Augustine's oldest surf report is now online. Blue Sky Surf Shop's surf report, with cams and quicktime clips of the waves.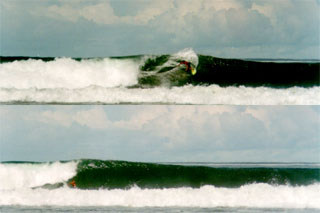 Marty Simmons Pavones Costa Rica 8/98
by Myles McGuinness
(Click image to enlarge)