The surf in St. Augustine for
Sunday March 2 , 2014


Wave Height 1½ - 2ft
Wind Direction W
Wind Speed 0 - 1 kts
Water Temp 60°
High Tide 1 8:39 AM
High Tide 2 9:03 PM
Low Tide 1 2:20 AM
Low Tide 2 2:44 PM
Time Of Report 9:05 PM
Comments Surf was cleaning up towards dark this evening. Forecasts for warm weather and offshore SW winds tomorrow. Could be worth a dawn check.


Don't forget, St. Augustine's oldest surf report is now online. Blue Sky Surf Shop's surf report, with cams and quicktime clips of the waves.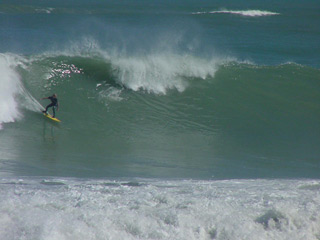 Stuart 1/24/2001
Is that Florida?
by KP
(Click image to enlarge)