The surf in St. Augustine for
Saturday May 16 , 2015


Wave Height 1½ - 2ft
Wind Direction E
Wind Speed 7 - 8 kts
Water Temp 75.2°
High Tide 1 7:12 AM
High Tide 2 7:40 PM
Low Tide 1 1:04 AM
Low Tide 2 1:11 PM
Time Of Report 9:15 AM
Comments Smaller bumpy weak windswell waves this morning. Heading towards a negative low tide this afternoon will not help things through the rest of the morning. Maybe we will see a slight increase this evening as the new moon tide starts to fill in.


Don't forget, St. Augustine's oldest surf report is now online. Blue Sky Surf Shop's surf report, with cams and quicktime clips of the waves.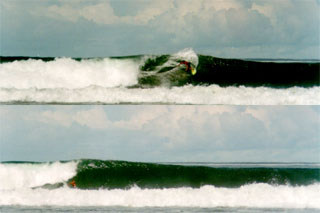 Marty Simmons Pavones Costa Rica 8/98
by Myles McGuinness
(Click image to enlarge)